The 2023 competition brief is now closed for submissions. Judging is taking place over the course of the next month; please look out for updates via email. Good luck to all of our entrants!
A little about us first
We are a global, strategic brand and design studio. Founded in 1986 in London, we've grown organically and in 2022 merged with global powerhouse in corporate & experience design, Superunion, to become Design Bridge and Partners.
Building on our shared ambition we offer the world's leading graduate program to enter the creative industries. From beers to teas, condoms to tampons, and cars to the stars – we work on a huge variety of businesses and brands. No day is ever quite the same.
Collaboration is a very big deal to us; we know it takes the individual skills and talents of every person in the team—with their unique perspectives—to deliver the kind of ambitious thinking and creativity that wows our clients and wins awards. We take the time to identify and nurture each person's particular strengths, striving to give everybody an opportunity, whether it's developing their creative talent, growing them into our future leaders or supporting their personal passions. This is why 'The Start' offers three 'pathways' – Client Leadership, Strategy and Creative.
So, where to begin?
We're looking for bold, hands-on creative types; curious cultural sponges who are full of ideas and passionate about design. And natural leaders and big thinkers too. We also couldn't succeed without the strengths and skills within our Client Leadership and Strategy teams; or the creative talents of our designers. All working behind the scenes to manage our clients and create world-class creative for their brands.
To help you determine which route is best suited for you – check out our flow chart below...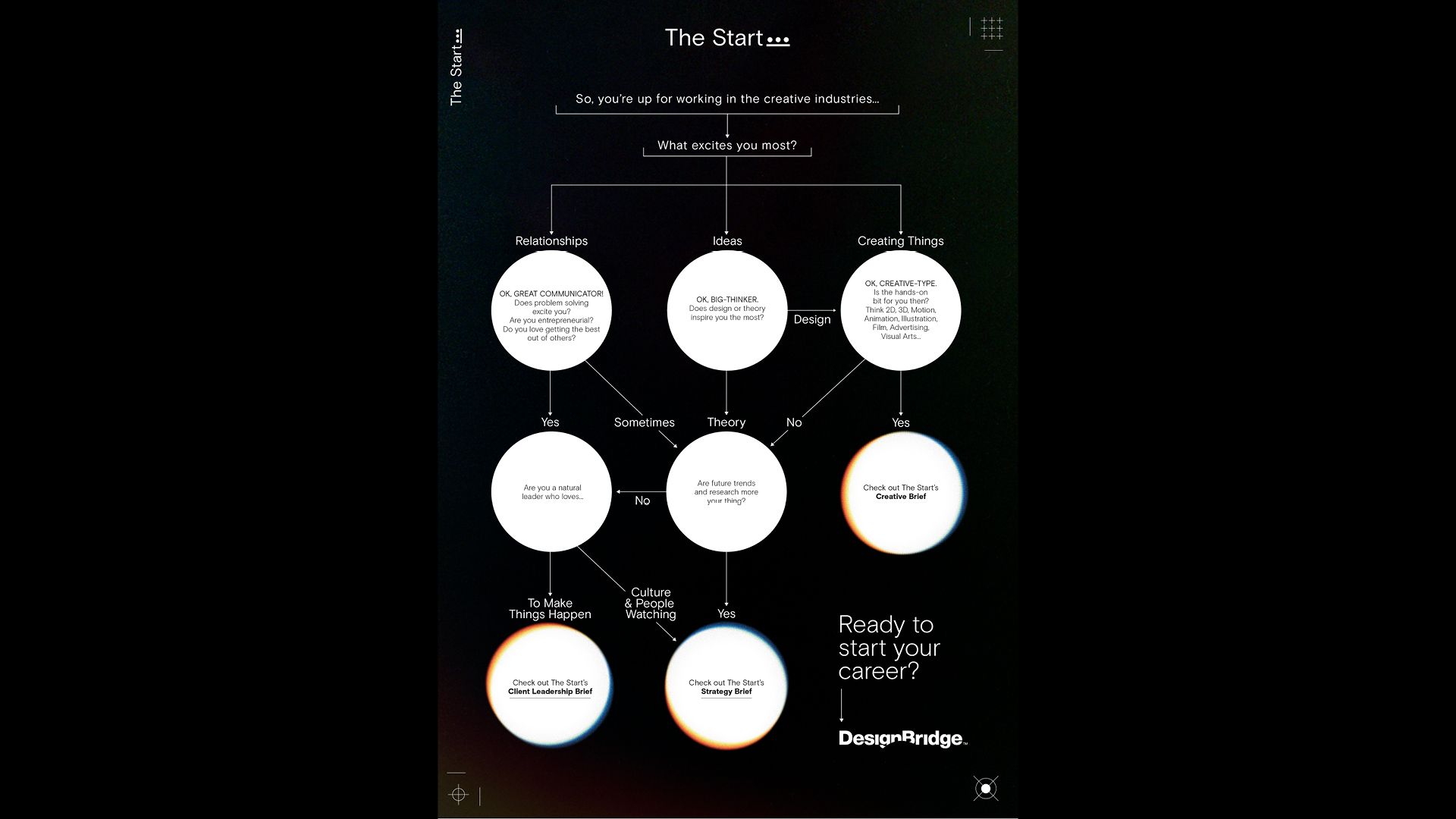 What are you waiting for?
You can find out all the details here, along with submission requirements for each pathway… once you're clear on the task, swipe down on our brief 'Brandomiser' to generate your bespoke 3-part brief!
At Design Bridge and Partners, we are an inclusive and diverse company. We insist on equal opportunities for people of colour, people of all physical abilities, of all gender identities, all sexual identities and all economic backgrounds. What we all share is what matters: a passion for strategic brand creativity and sharing our values of collaboration and commitment to excellence in all that we do.
If you have any questions about the brief or submission process, please get in touch with Holly Nicholas at holly.nicholas@designbridge.com
When you are ready to submit, head on over to our Jobs page here to enter your work.
-Got a burning question?-
FAQS
Can I apply while I am still studying?
Yes, but only if you are in your final year of study. 'The Start' is designed to set people up for a full-time career at the end of it, so if you are about to graduate and looking to enter the creative industries then this one is for you. If you're in the middle of a degree, or looking for a temporary placement, then you'd be better to wait for your application in your final year.
I graduated last year, do I still qualify?
We know covid has hit graduates hardest, so we are accepting graduates from the past few years, as well as people without a university degree at the start of their career in the creative industry.
Do I need to have a degree to apply?
Not at all – if you've got talent, ambition and are at the start of your career in the design industry – show us what you got! It's true Designers often go to design school, but this is not a requirement. Equally our Client Leaders and Strategists teams have come from all sorts of backgrounds too – we've got scientists, psychologists, economists, you name it! If you've got a keen eye for design, show us what you can bring to the pathway you choose.
Is 'The Start' available for International applicants?
'The Start' is based in our London Studio so we can only accept applications from people who have the right to work in the UK. Unfortunately, we can't support any visa sponsorship at this time.
Can applicants be remote, or do you have to be in London?
We are a hybrid studio. Monday and Friday are typically working from home days. With Tuesday, Wednesday and Thursday in our Clerkenwell studio. This programme is run by our London Studio, so applicants should be based in London (or within a commutable distance).
When will decisions on the position be made?
For the Creative, judging will take place in the summer and the 1st, 2nd and 3rd place winners will be notified once this is complete to arrange the initial placements. For the Client Leadership and Strategy, shortlisted applicants will be notified in July with first and second round interviews taking place from the end July into August. A decision on the 2 successful candidates will be made at the end of July with a start date in September.
How do I decide between pathways? Can I apply for more than one?
We encourage entrants to choose one pathway. As these are judged by different judges. And we believe it's too big a task for entrants – to combine the one brief across the trends point of view and design visuals – and do it to the required standard.
There are some similarities, but typically Strategy is about developing insights and digging deeper to simplify, clarify and inspire clients and creatives, whereas Client Management is about leading teams, building relationships with clients, driving projects forward and making things happen!
To help in this decision we recently did a session with the Creative Mentor Network all 3 roles in depth  https://www.youtube.com/watch?v=Jqhz_oim7HI.
Follow us on IG for some day in the life of the studio (for each pathway) too!
What should the cover page (with the one liner brief) say on it?
Just the one sentence with your brief is fine to introduce your work (not counted in your page count). However, we would suggest your name/pathway is on every document you send in too. In case they are printed out for judging. As an example….
Name: Pathway: Strategy
How should VO5 take on Gender Inequality while appealing to a Career Driven Millennial.
Should my approach focus on the UK market, or a global perspective?
The audiences in the brief were set with the UK in mind, however seeing some of our brands on the list are global – we are happy for you to take either option – but it might be valuable to explain this choice in your entry.
Where is a good place to look for consumer insights and trends?
There are lots of places to look for inspiration, but here are a few free resources that we love (…but show us what you think is on trend too!)
Do I have to submit a presentation?
No, it's completely up to you how you want to present your response to the brief. It could be a film, a written piece or something more creative – we want to be inspired, so show us how you do that best! A presentation is also fine, of course! Just keep an eye on the page counts.
We want to be inspired so start with a great idea – something we've not seen before, something we wish we had thought of – and then take us on a journey through your storytelling. Make sure to pay close attention to the judgement criteria in the briefing document when putting your response together as this will give you a good idea of what the judges will be looking for.
Beyond your response to the brief, tell us something beyond your work. We're deeply invested and interested our people, so we want to know you beyond your skills, too. What are you passionate about? Climate change? Women's rights? Upcycling? Going to space? Raising llamas? Tell us.
-Questions about the Creative pathway-
For the creative brief, can we enter as a pair?
If you're entering the Creative brief then yes, you can enter as a pair. However, if your entry is successful then you'll be assessed individually for the placement and future role opportunity.
Would you prefer to mock-ups, or are sketches, to show the idea?
Having a great idea is really important for this brief and we love seeing sketches, especially when it shows us how your brain works and how you arrived at your solutions. But we also want to see how you articulate your idea through execution and crafting, so think about the best way to demonstrate these skills in your response. You'll find our judgement criteria in the briefing document.
If you had to pick, what's more important: the craft or the idea?
Both are important. In great work, it is difficult for one to exist without the other. But if we really had to pick… the idea. Crafting skills can be learnt and honed but starting with a really great idea to grab our judges' attention.
What design fields are you hiring for?
We're always on the lookout for great talent and our Studio is made up of a mix of creatives across 2D design, 3D design, motion graphics, animation, CGI, communications and beyond so we're open to different interpretations of the creative brief – show us your skills! In fact, we recently spoke to Lexi, Junior Designer to share some insight into life in the Studio and how different creative disciplines work with the wider team.
-Questions about the Client Leadership pathway-
What is a day in the life of a Client Manager like?
The great thing about being a Client Leader is that no 2 days are the same. In the fast-paced world of our clients, we have different requests coming in all the time. Ultimately, the bulk of the day is made up of overseeing projects and ensuring that they are running smoothly, making sure that all budgets are signed off, and that our Strategy and Creative team have what they need to do their work. Sprinkle in some client meetings, team catch-ups, creative briefings and work reviews, and maybe a birthday celebration (with cake, of course), and you have your day! We spoke to Laura to find out more about her day-to-day!
What will my responsibilities be on the Client Leadership pathway?
As your confidence in the role grows your responsibilities will change over time. You'll be working in a close-knit team so your responsibilities will range from shadowing and supporting on the day-to-day needs of your team to running your own projects (with the support of more senior people, of course).
Do I need any background knowledge to be a Client Leader?
You'll learn everything you need to know on the job, and you will have members of your team to support you. However, it is important that you are good at motivating others and organised – as you'll be working across different projects and teams.
Do I need any customer service experience to apply?
Not necessarily. We're looking for people who are active listeners, ambitious about creativity, great communicators, patient and, above all else, positive – we don't expect everyone to have official work experience in these areas.
What types of tasks will clients require me to do?
It's less about what the clients ask for, more about what the requirements of the project are. For example, if we are briefed to design packaging concepts, your tasks may include: letting clients know when they'll receive the work, writing a brief for the design team, organising team reviews, making sure the creative team have all the files they need, and so on.
How many projects will I be working across at one time?
You'll start by helping out on a few projects (one or two) depending on what is happening with the clients your team looks after. Over time you will be spread across different projects, both big and small, so that you can learn about all the different aspects of work we do.
How can I make my application for the Client Leadership stand out?
We are looking for someone who can form great relationships and has a good eye for opportunities. So, can you let your personality shine through as well as display your sense of curiosity. If you can show this in 5 pages great, if a video (3min max) is more your thing, then show us what you've got that way!
-Questions about the Strategy pathway-
What makes a good Strategist?
A good Strategist is guided by their intuition; curious about really getting under the skin of a challenge, an excellent observer and a great communicator who can simplify the logic and inspire some creative magic!
How do Strategists work with clients and creative teams?
Strategists help to clarify the opportunity for clients and creatives, working flexibly between the two to build a strong direction for design that will deliver.
Are Strategists creative?
Yes! Strategists often work with clients to define the opportunity for the brand and inspire the direction for design – creativity is always at the heart, not just delivering on the detail, but joining up the dots in the bigger picture too.
Is being a Strategist varied in the day-to-day?
Absolutely, no day is the same! Whether it's working on different brands or different tasks for the same brand, each come with their own challenge to deliver a point of view on. In fact, we recently spoke to Lewis, Market Analyst, to tell you more about it.
What does a 'trends point of view' mean within the Strategy brief?
A trends point-of-view outlines your point of view on new trends (be they in the brand's category or beyond it) as they relate to your chosen brief. In a Strategy entry we want to see how plugged into trends / culture / ideas / creativity you are (a PDF of this deck is usually the output). Keep in mind this brief is about inspiring internal teams of designers first, clients would only see this deck once designs were done by our studio. This is versus entering the Client Leadership pathway – which is an elevator pitch, where we're keen to see how commercially minded / good at relationship building / selling ideas you are.
Is this task purely research and a write up of a proposed idea or do we need to actually design/draw the idea up?
We don't ask for designs or design work for the Strategy pathway, but you can make the layout of your deck as designed as you like. The brief asks for creative thinking, so think about how best to show that. It could be through written statements, mood boards, a video, user storyboards, etc. Explore what you think helps tell your story best and what would inspire a creative team in our Studio, and then maybe test it out by presenting it to your friends and family or fellow design students. The goal is always to simplify, clarify and inspire!