A day in the life of a Client Manager in London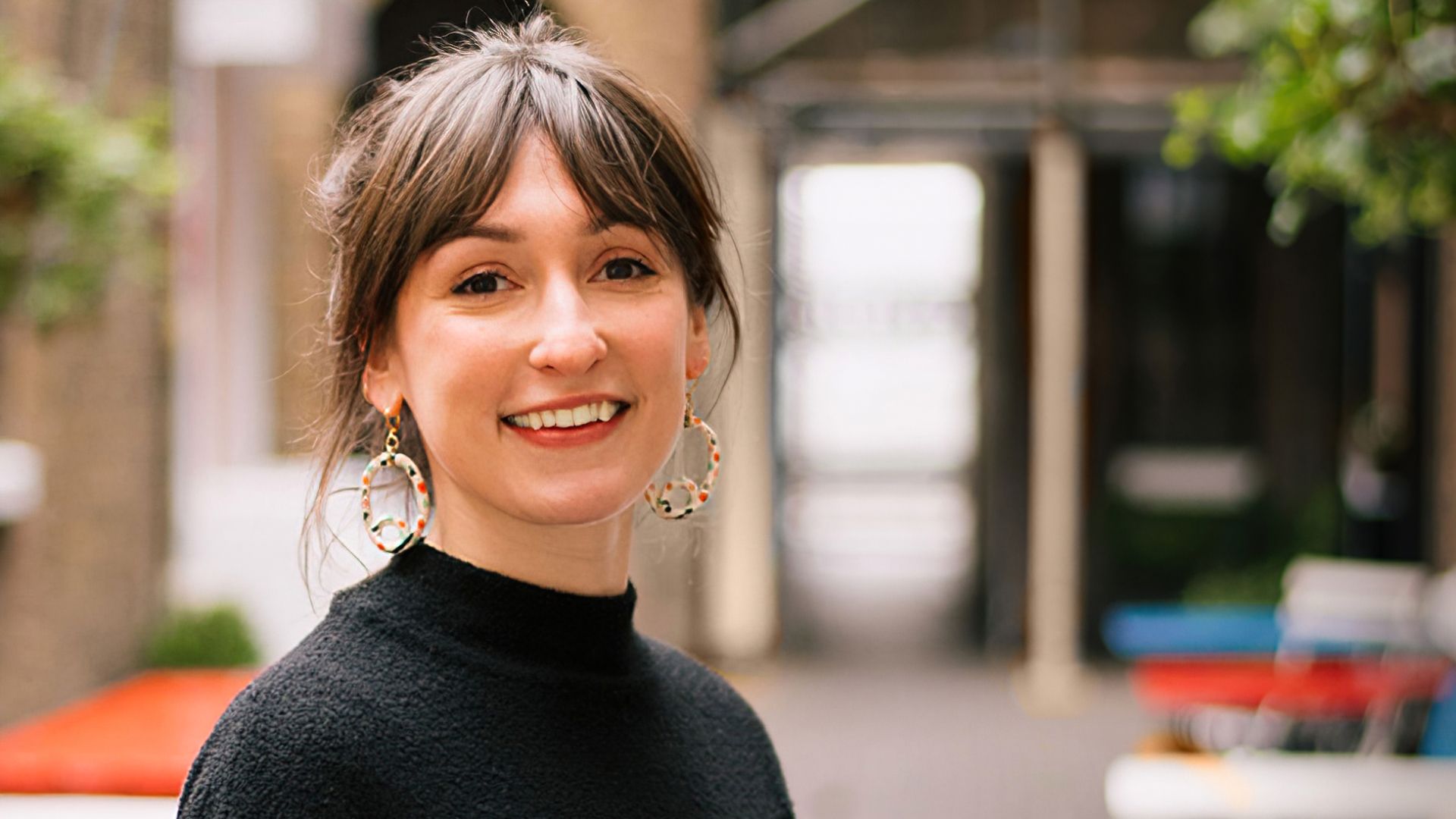 One of the pathways for applicants of The Start, our new junior programme in London, is Client Management, which is sometimes called Client Services or Account Management in other agencies. But what's it all about?
To help explain to those new to the industry, and especially to inspire people who are thinking about applying but aren't quite sure which pathway is best suited to them, we sat down with Ellie Hammond-Hunt, a Client Manager at Design Bridge and Partners London, to find out more about her career path, how client management fits within the Studio, what she does on the day-to-day, and how she would approach an application for The Start knowing what she knows now.
Say "hello" to Ellie…
Hi Ellie! Tell us, what is being a Client Manager all about?
Client Managers organise the day-to-day running of each creative brief. The client management team is the first port of call for our clients – we receive the initial briefs and then manage the workstream from there, drawing up quotes, planning projects, briefing the strategy and creatives teams, and ensuring that the work meets the objectives set out by the client. Communication – with clients and with other teams and people at Design Bridge and Partners – is a big part of our role.
What does an 'average' day look like?
The average day starts with checking emails and responding to any urgent requests, then I'll brief the creative teams I'm working with on any workstreams we have starting that day. If any questions come up, I'll check in with my clients to make sure we have all the information we need, and then I'll book in internal reviews and client presentations to discuss the work.
Often the client will get in touch with a new brief, so I will set up a call with our creative lead (a Creative Director or Design Director), the key clients involved in the project, and a Strategist to run though the details. After this we'll re-group internally and I'll start pulling together a budget and timings, based on what's needed.
Who do you work with?
I work across a couple of different client accounts, and for each one there is a senior member of the client management team that I work with most closely day-to-day – that could be a Client Director or Client Business Director. The rest of my time is spent working with the core team for each client, which is usually a Creative Director and/or Design Director, Designers, Strategist, Production Manager and Operations Manager. We work collaboratively to plan the project and deliver the best work for the client.
What kind of projects do you work on?
Such a range – anything from a 360 redesign of a big global brand through to branded PowerPoint templates! I've worked on packaging projects, a brand website redesign, and e-commerce messaging and imagery. Working on a variety of projects is great as you're always learning new things.
Sounds exciting. How did you end up working in client management?
I've had a bit of an unconventional career path. I've always had a love of design, and I did an Art foundation course at Leeds College of Art after my A Levels. Then I switched direction completely and applied to do a Biology degree! After university I worked at Kew Gardens as a Research Assistant, then I switched again and joined Design Bridge and Partners as a graduate trainee in September 2018. After finishing the year-long programme (the previous equivalent of The Start now), I was offered a permanent role as a Client Executive. I was promoted to Client Manager at the end of last year.
You've found your home! What are you most proud of in your Design Bridge and Partners career so far?
I'd say it's the relationships I've built with some of our core clients. It's really rewarding when you know that they trust you to do a good job with their brands. Getting to see the amazing creative work that the teams comes up with every day is one of the best things about my job, it's so inspiring.
If you could give one piece of advice to applicants of The Start, what would it be?
Don't be put off applying if you think you don't have relevant education or work experience. All you need is a genuine passion for brands and design, so make sure that shines through in your application.
Thinking back to when you joined the team, how would you approach The Start brief now?
I'd really dig into my chosen brand to understand how they speak and what they stand for. Having now worked in client management for a few years, my advice would be not to underestimate all of the seemingly smaller 'considerations' that the brand, consumer and brief might have. A great brief should inspire the team, but it also needs to give them everything they need to know, so make sure you pay attention to (and communicate) the detail.
And finally, if you weren't working as a Client Manager at Design Bridge and Partners, what would you be doing?
I'd probably be using that Biology degree and working as a plant scientist!
Well we now know who to come to for all of our house plant questions, thanks Ellie!
If you're at the beginning of your career and working as a Client Manager sounds like the perfect job for you, take at look at The Start, our new junior programme in London. The deadline for applications is Monday 31st May 2021. We have interviews with people working in our Strategy and Creative teams if you want to explore other pathways, too.
We're also recruiting for other roles in our London team as well as across our other Studios, and you'll find the latest opportunities on our Careers page.