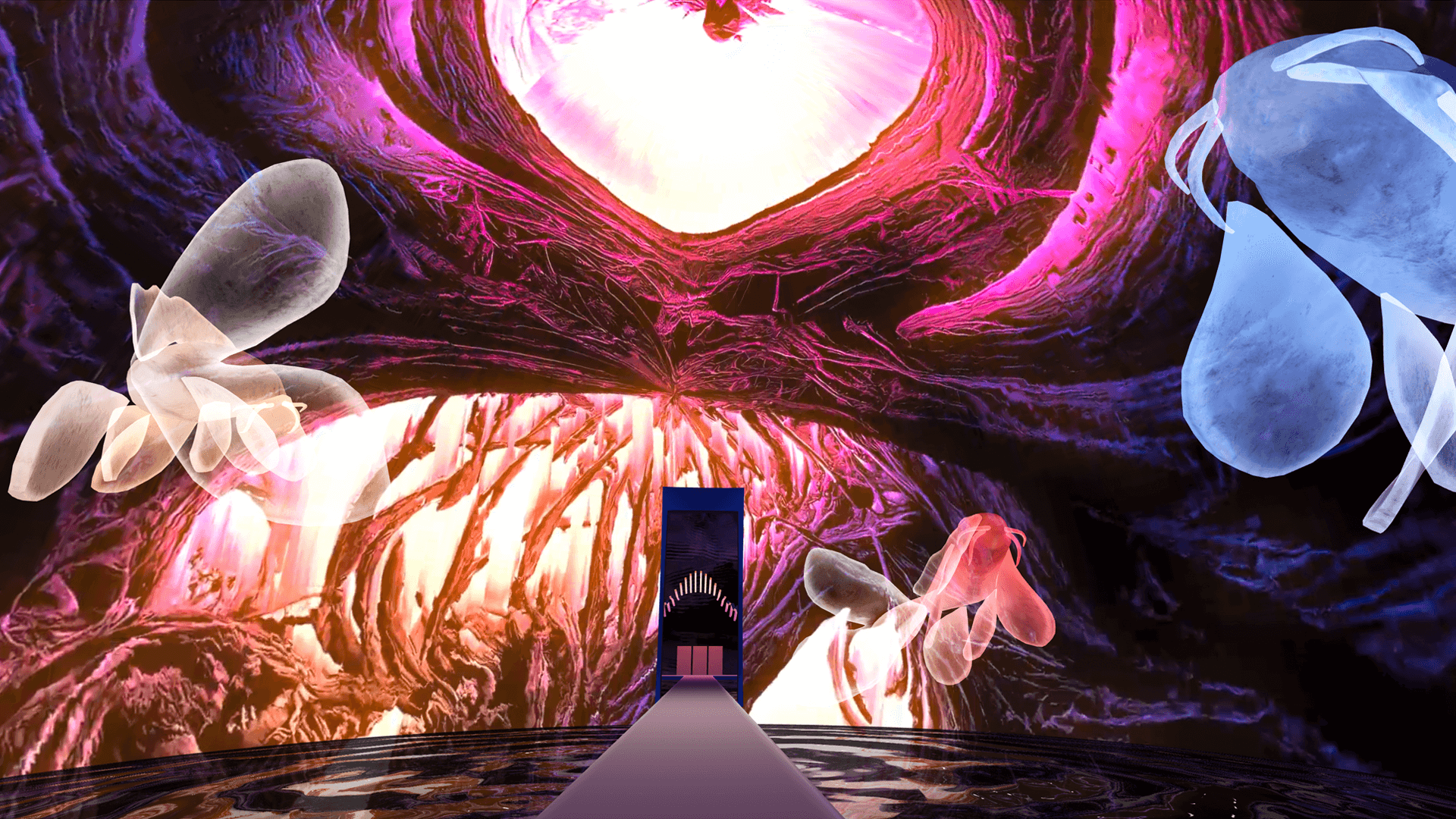 Design Bridge and Partners have partnered with Sino-Ocean Taikoo Li Chengdu, an iconic hospitality and retail destination in Chengdu, China, to launch its first virtual experience, The Temple. Created in collaboration with a team of international artists and launched on WeChat, the immersive platform celebrates the cultural heritage and contemporary spirit of Sino-Ocean Taikoo Li Chengdu, and its unrivalled reputation as a patron and collector of the arts.
The concept of The Temple is inspired by the ancient Daci Temple that lies at the heart of Sino-Ocean Taikoo Li Chengdu, a unique urban destination in Chengdu that combines hospitality, shopping, dining, and entertainment experiences, all set amongst restored lanes, mansions, and courtyards dating back to the Tang and Qing Dynasties.
The Temple was created as a virtual gallery and exhibition space to showcase curated products, experiences, and works from contemporary artists. By combining cutting-edge technology, motion design, and artistic expression, The Temple acts as a platform for experiential creativity, designed to engage global audiences and to position Sino-Ocean Taikoo Li Chengdu at the forefront of brand experience innovation.
The inspiration behind The Temple was to create a sanctuary outside the limits of time and space, designed as a spiritual home of digital arts and self-expression. A place for infinite imagination and creativity, it is constructed across three distinct spaces – The House of Light, The Blossom Garden, and The Infinity Tower.
With its surreal digital art pieces, The Temple invites the viewer on a journey of discovery, creating a sense of wonder through colour, texture, and form. Each of the rooms hosts an interaction inspired by rituals within the Daci Temple, from visualisations of releasing a koi carp and interactive singing bowls, to water meditation.
Design Bridge and Partners partnered with artists Gianluca Crudele, Sébastien Labrunie, Lu Yi, and Zheng Tiantian to create the inaugural exhibition for The Temple, called Inclusion and Embrace, which celebrates the diversity and inclusive nature of Chengdu and its people. A collection of immersive installations and digital artworks, on display for the first time, transported the viewer into the artists' reflections on inclusion from three perspectives: the city, its people, and an individual.
Evocative copy was also created to enhance the dreamlike sensorial experience in combination with visuals. Poetic narratives were crafted for each room to highlight milestones on the journey, guiding the viewer.
Design Bridge and Partners worked with Le Polish Bureau, a specialist technical partner, who provided creative code and motion graphics for the platform. The seamless mobile-first experience was developed in PlayCanvas, a powerful WebGL game engine. The sound was custom designed by TwoAM. The sound was custom designed by TwoAM.
"It was a privilege to partner with Sino-Ocean Taikoo Li Chengdu and bring together technology and artistic craft in an immersive digital experience for the brand. Sino-Ocean Taikoo Li Chengdu is a truly unique place that combines over a thousand years of history and cutting-edge modern retail, and our challenge was to capture and reimagine this sense of place, so it could be experienced from anywhere. It's been a great opportunity to collaborate with contemporary artists, a dream for any designer, and also to showcase our expertise in experience design combined with creative technology."

— Tim Brown, Creative Director, Hong Kong
"In the not-so-distant future, our phones will become windows into the metaverse, and immersive digital platforms will become a part of our daily lives, offering us new experiences and new technologies at our fingertips. The next generation of internet and design offers brands unprecedented opportunities to engage with their audiences, to stand out and to lead, and to set their own creativity free. It's fantastic to see Sino-Ocean Taikoo Li Chengdu at the forefront of this digital innovation, and we look forward to new artistic collaborations that will continue to push the boundaries of creativity."

— Jessica Tan, Digital Creative Director, Singapore